What's New
Updated  January 21, 2019:

Mega Job Fair Vancouver 2019
January 29, 2019.  10:00am – 3:30pm 
Croatian Cultural Centre, 3250 Commercial Drive, Vancouver
An acclaimed event hosted by PICS, the Mega Job Fair is the perfect platform for employers and job seekers to connect. The fair has been taking place in Surrey since 2005, and this will be the second year it will be taking place in  Vancouver! The Mega Job Fair has continuously brought together organizations and businesses from diverse industries and sectors. Numerous exhibitors and thousands of visitors attend each year, making this event highly successful and productive for all those who attend.
The purpose of the fair is to reduce the stress and pressures both employers and job seekers face when job searching, recruiting and networking. The Mega job fair is the place where all your employment needs are addressed – all under one roof! We look forward to seeing you in Vancouver – with the mission to unite talent with opportunity.
Register here:  PICS MegaJobFair
---
Vancouver Community College (VCC) introduces:
Communication for Engineering and Technology (ELSK 0730)
Communication for Engineering and Technology is designed to enhance workplace communication of Internationally Trained Engineers and Technologists in order to improve employability and communications in the workplace. This course teaches culturally appropriate speaking, listening, and language specific for the Engineering and Technology workplace. There is an emphasis of performance-based learning; learners are frequently recorded and then receive coaching and focused feedback.
Pre-requisites:
Be an internationally trained Engineer or Technologist AND proof of English language proficiency:
– Completion of ELSK 0715 and 0720, or
– CLBPT/CLB indicating a minimum of CLB 7 – Reading, Writing Listening and Speaking, or
– IELTS 6.0 overall with no band lower than a 5.5, or
– ELA score of: min 36 – Reading, 13 – essay, 20 – Listening, 24 – Speaking, or
– Department Head approval
---
APEGBC is now Engineers & Geoscientists BC.
This is their new logo: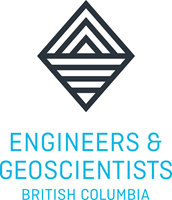 More info here:  https://www.egbc.ca/About/Our-Brand
---
                           
From IEC-BC:
IEC-BC is proud to announce that BC Refugees JobConnect has now been expanded to include all landed immigrants, as well as individuals who have been pre-approved to immigrate to Canada but have not yet arrived here. These changes are reflected in the portal's new name BC JobConnect.  Eligible candidates can now get immediate access to a tool effectively connecting them with employers for a head start in their careers in Canada.
Visit the expanded BC JobConnect website to learn more.
BC JobConnect is a customized online tool connecting job-ready newcomers to BC employers. It provides a platform for newcomer job seekers to showcase their skills, education and work experience and presents their profiles and résumés to BC employers looking for workers.
Who is BC JobConnect for?
• All newcomers living in BC
• Who arrived in Canada in the last five years, or
• Are clients of IEC-BC's FAST program
• Have a Permanent Residence (PR) number
• Are currently looking for employment
Register a candidate account, post your resume and get a head start on your career today!
BC JobConnect brings together employers, who are seeking skilled people to fill specific roles, and newcomers residing in BC. Registered employers have access to a constantly updated database of job-ready newcomer candidates, who have uploaded their profiles into the tool.
What are the benefits for employers?
Constantly updated pool of candidates
Free service
Flexible, multi-parameter searches
Ongoing support from IEC-BC staff
Register an employer account today to find your next success story!
---
Let's re-visit the Conference Board's iconic list of Employability Skills.  Click this:
The skills you need to enter, stay in, and progress in the world of work—whether you work on your own or as a part of a team.
These skills can also be applied and used beyond the workplace in a range of daily activities, and they apply to all workers, in all sectors, everywhere in Canada.  Always worth taking to time to read and remember.
---
SFU Surrey offers Tutoring, Homework and English Support for student children of immigrants
In partnership with the Friends of Simon Tutoring Project and the City Centre Library, The SFU Surrey CEC provides a no-cost tutoring outreach program targeted towards immigrant and refugee children in grades 5-9.  Check out the webpage here.
Who is the Program For?
This program is open to students who have immigrated to Canada, and to students who may have been born in Canada but whose parents/guardians have immigrated to Canada. The students must be in grades 5-9.
Who Are The Tutors?
Tutoring in this program is provided by Friends of Simon Tutoring. Simon Fraser University students are assigned as literacy and numeracy tutors to work with students in grades 5-9.
Friends of Simon tutors are highly trained and qualified SFU students who speak a variety of second languages including French, Tagalog, Spanish, Romanian, Punjabi, and Czech. Their tutoring expertise includes the following subject areas:
English, Math, Science, French, Social Studies, Humanities
and more!
Where is the Program Located?
The program is offered through the SFU Surrey ­TD Community Engagement Centre located in Room 401 of the Surrey City Centre Library at 10350 University Drive, Surrey, BC. For important information around parking at the City Centre Library, please see: http://www.surrey.sfu.ca/engage/centre/contact
When is the Program Offered?
The program is offered every Monday, Tuesday and Thursday afternoon from 4-6pm. The program is open for registration in September and begins in October and runs through to the end of May.
*PLEASE NOTE: By signing up you are making a commitment to attend tutoring on the dates and at the times you specify.  If you have registered for a session and can no longer attend, please email cec-fosreg@sfu.ca at least 48 hours prior to your session to let us know that you are no longer able to attend.  Students who register but who do not attend and who do not provide adequate notice may be prevented from registering in any future sessions.
---
Langara has updated its Introduction to Engineering Program
Introduction to Engineering in BC
(IEBC) is a battery of comprehensive courses designed to familiarize local engineering students, engineering graduates and
internationally trained professionals
to become acquainted with the engineering sector in BC. Are you looking to build on the skills and education already acquired outside Canada? Are you unable to achieve employment at a professional level? These broad, relevant selections of courses are in the best interest to prepare domestic and internationally trained professionals with industry specific skills to gain employment in an engineering environment, as well as, promote strong awareness of Canadian workplace culture.  The program's course lineup can be seen here:  
Langara IEBC
For more information, please contact Yasmin Virji, CS Program Coordinator, Tel: 604.323.5981 and email: yvirji@langara.ca.
Yasmin Virji M.A., CDP, CPP
Program Coordinator, Business Programs
Continuing Studies, Langara College
601 W. Broadway
Vancouver BC V5Z 4C2
604-218-1783/604-323-5981
Langara.
100 West 49th Avenue, Vancouver, BC, V5Y 2Z6
---
Surrey LIP (Local Immigration Partnership) Employer Consultation Report
ASTTBC has been a contributing member of the Surrey LIP since 2014.  One of the many initiatives of the LIP is the Surrey Industry Dialog study, comprising Employers, Immigrants and Sector Support Staff.  The four sectors involved were Construction, Health Care, Manufacturing and Technology, and the discussion sessions were hosted by the Surrey Board of Trade.  Here is a link to the Surrey Industry Dialogs Overview:  LIP-SectorDialogues
One of the 'hot topics' which arose during the discussions was the need for Canadian Experience, these being typical:
"I am an architect in my country but got 
local certification in basic drafting here… 
got a call for an interview for a drafter job… 
did not get a job because I did not have 
local experience. It has to change."
Myth of Canadian experience:
There is a need for a clearer definition of "Canadian experience," as…
"coding is the same from Timbuktu to Taiwan."
This overview includes a number of important observations and viewpoints, and is well worth your time to read through.  ASTTBC congratulates both the Surrey LIP and the Surrey Board of Trade for the time and effort expended in support of Immigrants, and especially ITP immigrants.  ASTTBC is committed to continued support of the LIP, as a long-time Surrey resident (our offices are in Surrey!) and to continually ensure that our policies and procedures for certification and registration, for Foreign Credential Recognition and for ITP outreach are appropriate and forward-thinking while fully observing our own regulatory responsibilities:  we believe we are part of the solution, not part of the problem.
 English as an Additional Language (ESL or EAL)
Register online:
These courses are FREE! ($50 Deposit will be refunded at graduation*)
The goal of this 12-week program is to educate participants about workplace health and safety using an ESL curriculum model.

Participants will have an opportunity to improve their language skills while learning about workers' rights in health and safety topics such as workplace violence, preventing back injuries, workplace chemicals (WHMIS) and identification of hazards.
In this unique program participants commit to attend a weekly, four-hour day session for 12 weeks. There is no charge to participants.
Participants in these sessions will be able to use this knowledge and information to increase their awareness of health and safety and to become involved in the health and safety committees at their workplaces.
*Participants must attend at least 50% of classes to be eligible for the registration refund.